Holidays to the Greek Islands
Holidays to the Greek Islands have an alluring appeal here you can find something to suit to all tastes and ages. Holidaymakers are attracted to the islands for a variety of reasons, here you can work on your tan on pristine white sandy beaches, visit picturesque whitewashed villages, explore ancient archaeological sites, dine in traditional Greek tavernas, and dance till the early hours at the multitude of discos and nightclubs. Those seeking a more laid back, relaxing stay can visit small village resorts away from the tourist centres or perhaps enjoy a stay on one of the many smaller islands. Accommodation is as diverse as the islands themselves with a wide range of holiday options from simple room only or self catering apartment through to hotels providing 5 star all inclusive luxury.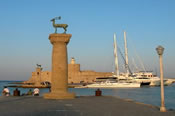 Holidays to - Rhodes
There are many reasons why Rhodes is one of the most popular destinations in the Mediterranean: the natural surroundings, its crystal clear seas, parks and recreational facilities, its attractive resorts and not least the bright sun and the warm hospitality of the islanders themselves. The islands capital Rhodes town is steeped in history and a treat not to be missed. The whole island continues to be popular with British tourists, initially attracted by the island's wonderful subtropical climate with 3,000 hours of sunshine per year Rhodes is now a firm favourite on the tourist map... more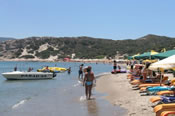 Holidays to - Kos
The wonderful holiday island of Kos is only seven miles across yet boasts 25 miles of beaches. Holidays to Kos are a firm favorite with British holiday makers, especially those seeking value for money package deals. Many Kos beach resorts offer a variety of water sports, beach bars and evening entertainment. Some of the most popular resorts include Kardamena, Kefalos, Lambi, Marmari, Mastihari, Tingaki and Kos Town... more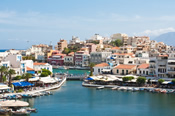 Holidays to - Crete
Holidays to Crete offer the visitor breathtaking scenery, golden sandy beaches, pebbled coves, lush green meadows and arid landscapes. Undoubtedly one of the most beautiful Greek islands, Crete is also one of the most popular. Holidays in Crete are particularly appreciated by holidaymakers seeking a sun, sea and sand holiday with a difference. While it's true that the island is popular for its golden sandy beaches and pulsating nightlife, it also features mountainous hiking trails, idyllic villages, bustling street markets and archaeological treasures - in particular the Minoan Palace of Knossos and the birthplace of Zeus... more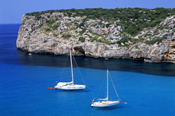 Holidays to - Corfu
Holidays to Corfu provide the visitor the opportunity to see an island blessed with beautiful beaches, lush mountains and picturesque bays - all just a three-hour flight away from the UK. Corfu is the closest Greek island to the UK and is especially popular with holidaymakers seeking sun, sea and sand. Holidays in Corfu are not complete without a visit to the island's capital, Corfu Town. Here visitors can explore the 14th-century old quarter, with its colourful houses, Venetian architecture and cobbled streets... more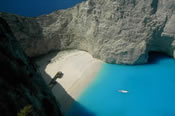 Holidays to - Zante
Holidays to Zante (Zakinthos) the third largest Greek island, offer the visitor an array of beaches, from broad white sandy bays lapped by turquoise waters to secluded rocky coves. The most famous stretch of sand lies on the southeast side of Zante between Kalamaki and Lithakia. These beaches are lined with bars and tavernas and are particularly popular with sunbathers, swimmers and water sports enthusiasts. It's not just tourists who flock to this stretch of sand, but they are also nesting grounds for loggerhead turtles... more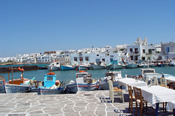 Excursions and things to do in the Greek Islands...
Holidays to the Greek Islands have plenty to offer the visitor, with great sites to see both geographical and man-made. Dotted through the islands you will find reminders of the history of Greece with many interesting ,architectural and historical sites commemorating the islands rich past. For fun seekers there are every conceivable type of water-sports, horse riding, boat trips, golf courses, sea fishing, jeep safaris and a multitude of activities to keep the most active of holiday makers happy.