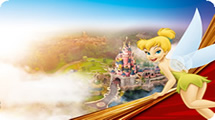 Disneyland® Paris 2015
If you are planning to visit Disneyland® Paris in 2015 this is just the place to start!
Travel Empire are Disneyland Paris experts
and our website and friendly reservation team are on hand to help arrange the perfect break to the Paris theme park. If you are travelling as a group or simply looking to arrange a family break, our site is full of transport and hotel options and ideas to suit everyone.
Disney breaks are a real treat for all age groups, with all the rides, characters, thrills and delights that you would expect from Disneyland Paris. Book your weekend or short break package with us and you could also qualify for huge discounts, plus your kids could stay and play free!
There is always something happening at Disney Paris with seasonal events throughout the year including celebrations at Christmas and New Year. Call our reservations department for the latest news, on-sale dates and information or simply sign up below and we will keep you up to date with everything Disneyland Paris.
Early Bookers - Up to 2 nights and days free:
Spring/Summer 2015 arrivals
Super Early Booking Offer : For Arrivals from 1st April 2015 to 31st October 2015
Book by 9th February 2015
Depending on your length of stay you can get with this offer:
For the price of a 2 night/3 day get a 3 night/4 day package or a 4 night/5* day package
For the price of a 3 night/4 day get a 4 night/5 day package or a 5 night/6* day package
For the price of a 4 night/5 day get a 5 night/6 day package or a 6 night/7* day package
You will also benefit from FREE Hotel and Park tickets for kids under 7
-FREE Hotel & Park tickets for kids under 7 for arrivals until 12th November inclusive
* Does not apply to arrival dates from 20th December 2014 to 2nd January 2015.
Click here for details &
terms and Conditions.
Book today call free: 0800 849 1245 or click for a quote by email.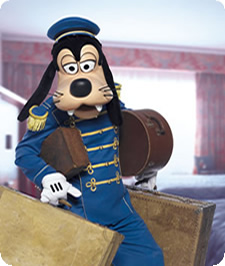 Planning your visit:
For information on travel to Disneyland Paris holidays by air from your local airport or by car, coach or Eurostar please click the appropriate image in the right hand column of this page. Stay close to the magic in one of Disney's selected hotels or a Disney owned on-site hotel, view this wide choice of accommodation at
Disneyland hotels
and see descriptions and lists of facilities to aid in the selection of the accommodation to suit you and your family!
There is always something happening in the parks, please take time out to have a look at our
Seasonal Events
page this will give you a flavour of what is happening season by season in the parks.
"..a big thank you to you and Travel Empire for making our visit
and stay at Disneyland Paris a really memorable one for us ..." Mrs Townsley, Devon.
* terms and conditions apply: If you need to know any further information don't hesitate to contact us:
0800 849 1245