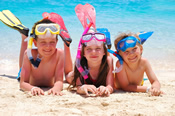 Holidays to the Costa de Almeria
Costa de Almeria holidays often centre round the beach resorts of Aguadulce, the city of Almeria with its pretty old town, market, cathedral and fortress, Almerimar with its large marina and golf course, Cabo de Gata with its untouched white sandy beaches, Mojacar, for its traditional Moorish village and five-mile expanse of sand, and the popular lively resort of Roquetas de Mar. Car hire is recommended to aid the exploration of this region with fascinating spots to discover such as the nearby Alpujarras mountains. Popular activities along the Coast of Almeria include water sports and first class golf courses.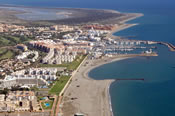 Costa de Almeria Resorts - Almerimar
Almerimar is a tiny oasis amid a large farming area, the immediate area around the town has an unusual feature as the farming is done under what seems to be miles of plastic sheeting! Don't let this initial shock put you off this little gem of a resort, it has a large marina and yachting club, there are many restaurants, bars, shops, and surprisingly good night life for a small resort. Fishing is popular with the locals due to the large quantities of tuna in the local waters. The coastal resort of Almerimar is located on the Costa de Almeria, 35 kilometres west of Almeria city (approximately 45 minutes from Almeria airport) and 195 kilometres east of Malaga. It boasts 12 kilometres of sandy beaches.... more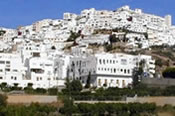 Costa de Almeria Resorts- Mojacar
Mojacar is far removed from the concrete developed mega-resorts that have appeared throughout Spain it is an engaging, beautiful and romantic corner of the Costa de Almeria. Perched high on a hill this picturesque village features lovely white washed houses, courtyards and traditional cobbled streets, it overlooks the sea and the long sandy beaches. A haven for artists and writers for many many years, Mojacar with its Moorish appearance and commanding views is a fascinating and captivating place, full of atmosphere, Mojacar provides a completely different holiday destination.... more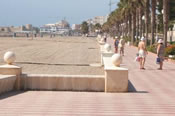 Roquetas de Mar is the largest and liveliest tourist resort on the Costa de Almeria, holidays to Roquetas de Mar have grown in popularity recently due to the introduction of low cost flights to nearby Almeria airport from several 'no frills' airlines. Like many Spanish holiday resorts Roquetas de Mar has developed from a traditional fishing village in to the modern holiday destination it is today. This has been accomplished by developing one side of the town for tourism, now filled by modern hotels and other visitor facilities such as souvenir shops, bars and restaurants. The rest of the town has developed at a different pace and has managed to retain some of its original charm. The settlement itself dates back to Roman times, while the maze of narrow streets reflects its Moorish history. ... more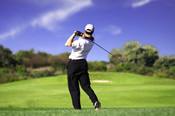 Excursions and things to do in Spain...
Holidays to Spain have plenty to offer the visitor, with great sites to see both geographical and man-made. There are every type of water-sports, horse riding, camel rides, boat trips, golf courses, sea fishing, submarine dives, jeep safaris and a multitude of activities to keep the most active of holiday makers happy. Spain's rich historical past provides endless opportunities to see architecture, visit museums, ancient ruins, and amazing archeology.