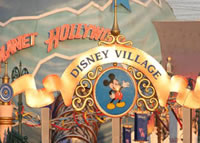 Disney® Village
Ideally situated between the Disneyland® Park, the Walt Disney Studios® Park and the Disney Hotels, Disney® Village allows you to get a taste of America. Boutiques, bars, restaurants, a nightclub and the Buffalo Bill's Wild West Dinner-Show let you travel from Florida to California, from Chicago to New York, from the Wild West to the Hollywood dream. This unique entertainment area in Europe takes you around the world from dawn 'till dusk and into the night with concerts, street artists and games. Dance until the early hours to the craziest rhythms and the best hits of the last thirty years in a Florida-inspired decor at Hurricanes nightclub. Throughout the year enjoy a succession of different music festivals and live concerts offering something for everyone. From Rock to Country music, not to mention Blues, Groove and Soul, the most prestigious artists regularly perform on different stages. Indulge yourself!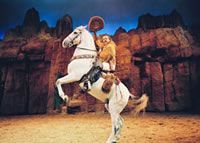 BUFFALO BILL'S WILD WEST SHOW
Imagine…A herd of wild Buffalo, authentic cowboys and Native American Indians, Buffalo Bill and Sitting Bull in a grand arena showing you how the west was won. Relive the conquest of the West with a perilous stagecoach attack, gunfight, showdowns, shooting demonstrations and trick riding display. All while enjoying a Texas-style barbecue! Receive a magnificent souvenir cowboy hat!
Adult Menu Camp cornbread * Cattleman's Chilli * Tex Mex-marinated skewer of meat * ¼ corn on the cob * Old-style potato wedges * Warm apple dessert with vanilla ice cream * Water, beer, Coca Cola, coffee or tea.
Children's Menu * Roast chicken drumstick * Sausage * Old-style potato wedges * Ice Cream * Water or Coca Cola® Vegetarian and pork menus are available. Please request these menus upon arrival at the show. Wine available at a supplement; payable direct. Menus are subject to modification.Good to know * Duration of the show 1 hour 30 minutes. * Shows every evening: 6:30pm & 9:30pm. Closed Wednesday & Thursday with exceptions. (please check at time of booking) * We advise you arrive at least 1 hour before the start of the show. * IMPORTANT: As live animals are used during this show and the cavalcades raise dust, it is not suitable for people suffering from asthma or other respiratory disorders. Hold on to your hats, cowboys and cowgals. Welcome to a hard-hitting, shoot 'em up showdown filled with high -rolling cavalcades, a buffalo chase and stagecoach hold-ups! It's enough to work up an appetite. So tuck into a traditional wild west dinner, served in Cowboy-style dishes.
Book before you go and save 15%!!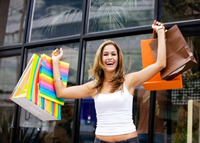 Shopping in Disney® Village
There are over 40 unique shops throughout both Disney® Parks, Disney® Hotels and Disney® Village offering a wide range of souvenirs, so you won't be short of choices for gifts. To leave your hands free for the rides, make use of the free shopping service, where you can shop early in the day and pick up your goods after 6pm at Disney® Village or after 8pm direct from the boutique at your Disney hotel.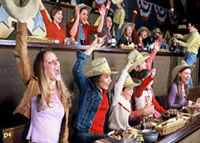 Restaurants and Bars
Taste the magic - There are 4 bars and 10 themed restaurants. Sample the mouth-watering food while soaking up the entertainment. With a huge choice of restaurants including French, American, Tex-Mex and Italian cuisine you can try something different every night. (Restaurant reservations are highly recommended.) There are also some great bars to unwind in after a day in the park including Billy Bob's Country and Western Saloon or you can follow your favourite team in the Sports Bar.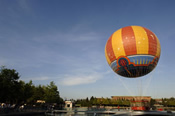 Lake Disney®
Lake Disney® Set by Disney® Village Lake Disney® offers plenty of activities on and around the water, including pedalos, rowing boats, electrical boats and canoes in the summer. Year-round fun is also available, a trampoline, radio-guided games and a mini-train tour by the lake amongst the choices. Most activities are subject to weather conditions and incur a local charge.
To head back to Disneyland Paris home page please
Click here.