Benidorm Fiesta November
Benidorm Fiesta November 11th to 17th November 2016
"...thank you Travel Empire!...We loved the fiesta, amazing fireworks, great nightlife and Sticky Vicky OMG!"
Benidorm Holidays are normally quite lively, but the most fun time time to visit has got to be during the annual Benidorm Fiesta held each November! This massive festival attracts a huge following from across the UK with many visitors returning year after year. This amazing celebration honours the Patron Saints of Benidorm; La Virgen del Sufrage and Jaime Apostol and lasts for 6 pulsating days. In 2016 the party starts on Friday the 11th November and lasts until Wednesday the 16th November, over the years this has been extended by an additional day, although not officially part of the fiesta, British holiday makers have extended the fun by the introduction of a mega fancy dress party, this extra day is now become a traditional part of the fun and will be held on Thursday the 17th November 2016!.
You can search for any of the resorts hotels and apartments in the adjacent search box. For group bookings (over 9 passengers) or any apartment or hotel not featured in our hotel search facility please contact our reservations department:
Call free: 0800 849 1245 or click for a quote by email.
Benidorm Fiesta - Information & Bookings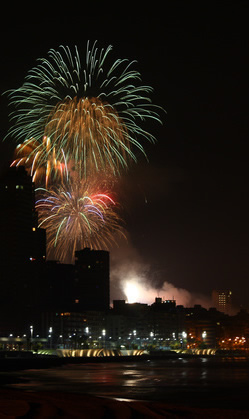 Holidays to Benidorm at fiesta time are always extremely popular therefore we would definitely recommend early booking to guarantee a room in your favourite hotel or apartment in Benidorm.

Benidorm Hotels You can use our search facility above to check for holiday availability or just simply to find a hotel or apartment, it's a simple process to put together your own holiday with low cost flights accommodation and even transfers! For a list of our favourite Benidorm hotels and accommodation click the link above to see more information.

Benidorm holidays Alternatively please call our reservations team on FREE PHONE 0800 849 1285 let them find the hotel or apartment for you. You will also need to call this number if you have a group or party booking over 9 passengers.
Benidorm Holidays, Hotels & Apartments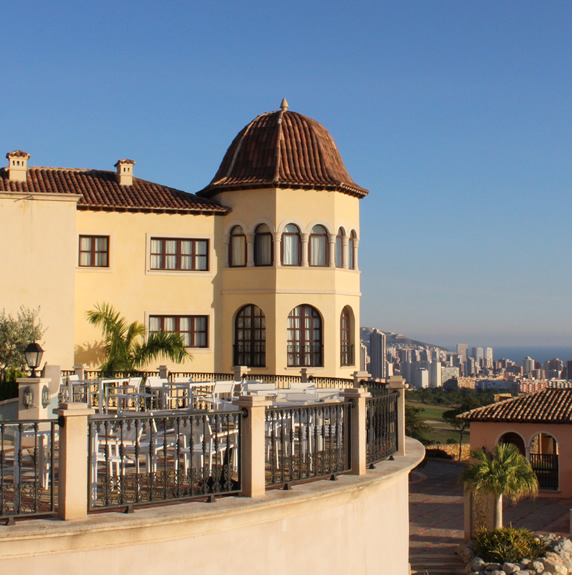 Travel Empire will be only too pleased to help find your ideal holiday, whether you book in advance or you are searching for a last minute bargain. We can tailor make holidays of any duration, find a package holiday, a flight or just book accommodation for you. We are an independent company not affiliated to any tour operator or airline, our only objective is to find the holiday or travel arrangement to suit you. Call free to speak to one of our reservations team 0800 849 1285

Do you want to find out more about the 2017 fiesta? Click... Benidorm Fiesta 2017
Latest prices & special offers!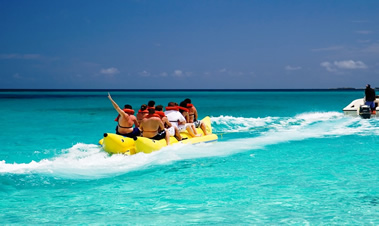 Benidorm Fiesta special offers
We do understand that it's not always possible for everyone to book so far in advance, so we constantly search for late offers, holiday bargains and last minute availability to display on our page, as soon as they become available the offers (shown below) are updated everyday.
Excursions & things to do in Benidorm

Holidays to Benidorm have plenty to offer holiday-makers, if you enjoy a walk you can stroll along the newly built promenade on Poniente beach with its spectacular design imitating the waves of the sea.
For the even more active there are plenty of sports available on land and sea including; 2 golf courses, hiking or cycling with plenty of designated routes close by including in the protected nature park of Sierra Gelada, all types of water sports, (scuba, water-ski, banana boats, pedaloes, kayaks) are here and much more.
The resort is home to 5 theme parks, 2 are water parks Aqualandia and Aquanatura, the Terra Mitica attraction theme park, has themed areas, thrilling rides and shows (open in summer).
Terra Natura is home to an animal and cultural park (a modern day Zoo) and Mundomar (a world of birds, sea lions dolphins, parrots shows) both open year round. All the parks offer something for all age groups.
Boat trips out to Benidorm Island are available to see the underwater sea life, a real scuba divers haven.
A visit to the old town is a must, here you can try out the local gastronomy, including some delicious tapas.

Away from the resort, excursions are available to neighbouring resorts and towns such as Cala de Finestrat, Calpe and Denia, as well as further afield to the regions major centres of Alicante and Valencia.
Latest Offers & Prices - East Midlands Airport
Benidorm
Depart from East Midlands
12/11/2016 for 7nts
Self Catering, 3 Stars
Latest Offers & Prices - Leeds Bradford
Latest Offers & Prices - Manchester
Benidorm
Depart from Manchester
13/11/2016 for 7nts
Half Board, 4 Stars
Latest Offers & Prices - Newcastle
Benidorm
Depart from Newcastle
12/11/2016 for 7nts
Half Board, 3 Stars